PowiGaN Technology
PowiGaN is Power Integrations' internally developed gallium nitride (GaN) technology. PowiGaN switches replace the traditional silicon transistors on the primary side of PI's highly integrated offline flyback switcher ICs, reducing switching losses and enabling chargers, adapters and open frame power supplies that are more efficient, smaller and lighter than silicon alternatives.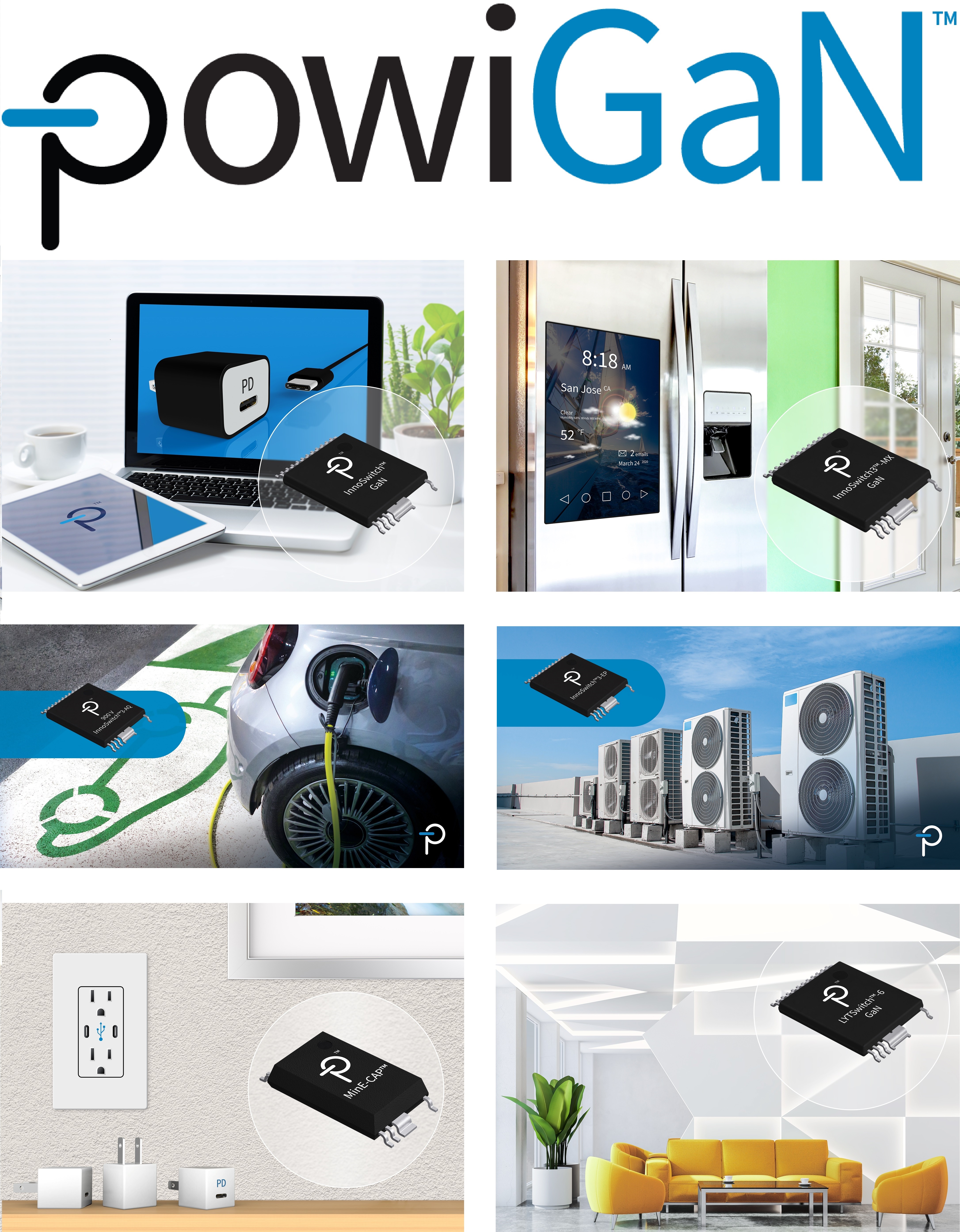 Download the whitepaper: PowiGaN-Based Primary-Side Power Switches Extend the Power Range of InnoSwitch3 IC Family
Which PI Products Feature PowiGaN Technology?
PowiGaN-based ICs achieve up to 95% efficiency across the full load range and up to 100 W in enclosed adapter implementations without requiring a heatsink.
InnoSwitch3-AQ - best for electric vehicles based on 400 V bus systems
InnoSwitch3-CP - best for constant power charging
InnoSwitch3-EP - best for open frame power supplies
InnoSwitch3-Pro - best for dynamically controllable voltage and current, including USB PD PPS applications
InnoSwitch3-PD - Best for reducing component count in USB PD PPS adapters, featuring built-in USB PD controller
InnoSwitch3-MX - best for LED TVs, monitors and appliances utilizing LED displays, paired with InnoMux controller
InnoSwitch4-CZ - best for ultra-small mobile device chargers, paired with ClampZero high-frequency active clamp IC
InnoSwitch4-Pro - combining dynamic control and active clamping, can be paired with ClampZero for zero voltage switching or used stand-alone in quasi resonant mode
HiperPFS-5 - best for Power Factor Correction (PFC), required in many countries for power supplies over 75 W, paired with InnoSwitch4-CZ IC or HiperLCS-2 chipset
MinE-CAP - best for reducing capacitor size in chargers, paired with InnoSwitch3 switcher ICs
LYTSwitch-6 - best for LED lighting and ballast
How Do I Design with PowiGaN-Based Devices?
The PI Expert automated power supply design software suite supports both silicon MOSFET- and PowiGaN-based devices, speeding up the design process by enabling the selecting of the best components and generating the full schematic, magnetics and BOM from basic parametric inputs.
Start your design with PI Expert today.

To Learn More
Watch this video series: GaN Explained