Products That Are Good for the Planet

---
The average home contains dozens of devices that spend the vast majority of their time in standby or no-load conditions. Due mainly to inefficient power supplies, the energy wasted by these devices adds up to a massive burden on our economy and our environment. In fact, a 2015 study found that in an average U.S. home, products in standby or other idle conditions consumed $165 worth of electricity per year. Nationwide, this added up to an amount of power equivalent to the production of 50 large power plants.
Policymakers are implementing increasingly stringent efficiency standards in order to reduce waste. But because the electronics industry is intensely competitive, manufacturers are seeking innovative ways to reduce energy consumption without adding cost.
Power Integrations' EcoSmart technology offers a solution. EcoSmart chips act as a brain for the power supply, not only delivering the voltage and current needed to run the product, but also intelligently managing the flow of power to maintain high efficiency even at light loads. When there is no load, EcoSmart technology effectively shuts down the power supply, resulting in near-zero consumption.
Recognized Leader in Energy Efficiency
---
EcoSmart Technology Slashes Standby Waste
20 Billion+
EcoSmart ICs Sold Since 1998
---
More than 16 TWh
of Standby Energy Saved in 2022
Equivalent to annual electricity usage of 2.3 M homes*
~7M tons of CO2 emissions avoided**
* Source: U.S. EPA Greenhouse Gas Equivalencies Calculator
**Based on 2021 U.S. average of 0.855 lbs./kWh, per U.S. Energy Information Administration
Estimated Energy Savings from EcoSmart Devices
Note on methodology: Chips assumed to enter service 8 weeks after sale and remain in service for 5 years. Standby consumption of EcoSmart chips varies by product family, with a range of 0.05 W to 0.3 W. Competing power supplies include line-frequency transformers, RCC discretes, standard PWM control and low-standby PWM control, with standby consumption ranging from 1.5 W to 0.1 W.
Power Integrations has sold more than 20 billion chips with EcoSmart technology since 1998, saving more than an estimated 170 terawatt-hours of electricity. But these savings are just one benefit of Power Integrations' products. Our products are key enablers of a wide variety of clean technologies:
---
System Solution with PowiGaN Delivers Superior Efficiency
PowiGaN Switch
with proprietary EcoSmart control technology delivers highest efficiency in standby & full load
Efficiency Comparison Over Load at 5 V Output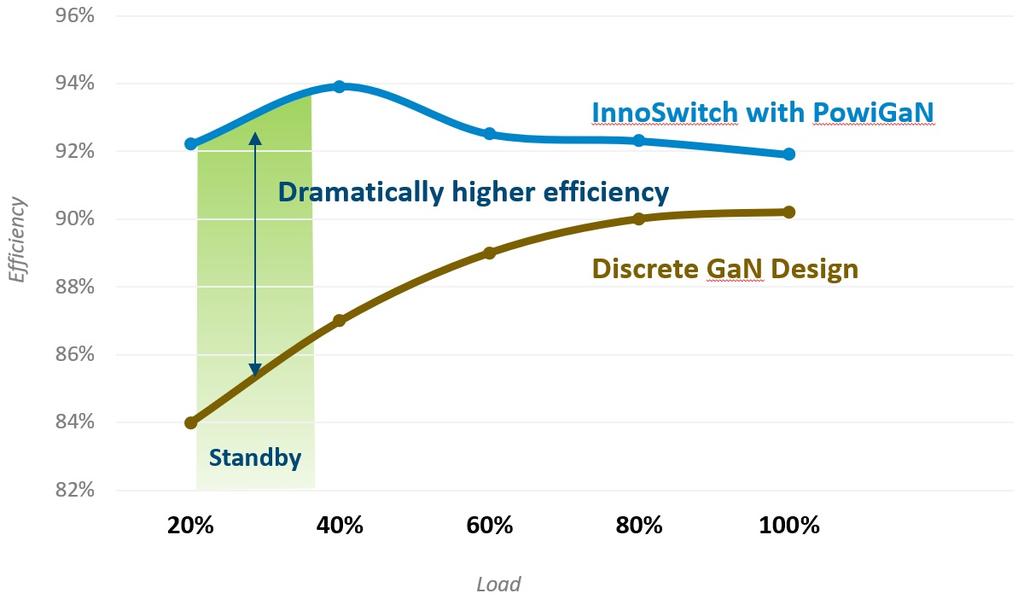 ---
Reducing E-waste and Energy Use through Integration
Because of our unmatched level of integration, our products drastically reduce the number of electronic components used in power supplies. Each of our ICs eliminates numerous components such as resistors, diodes, transistors and capacitors compared to alternative designs. Similarly, each of our gate drivers can eliminate hundreds of components.
With nearly two billion ICs and more than a million gate drivers shipped annually, PI products are eliminating billions of electronics components each year, not only conserving raw materials and the energy used to manufacture these components but also reducing e-waste.
Up to 100 Components…
Replaced with Two Hiper ICs
HiperPFS-5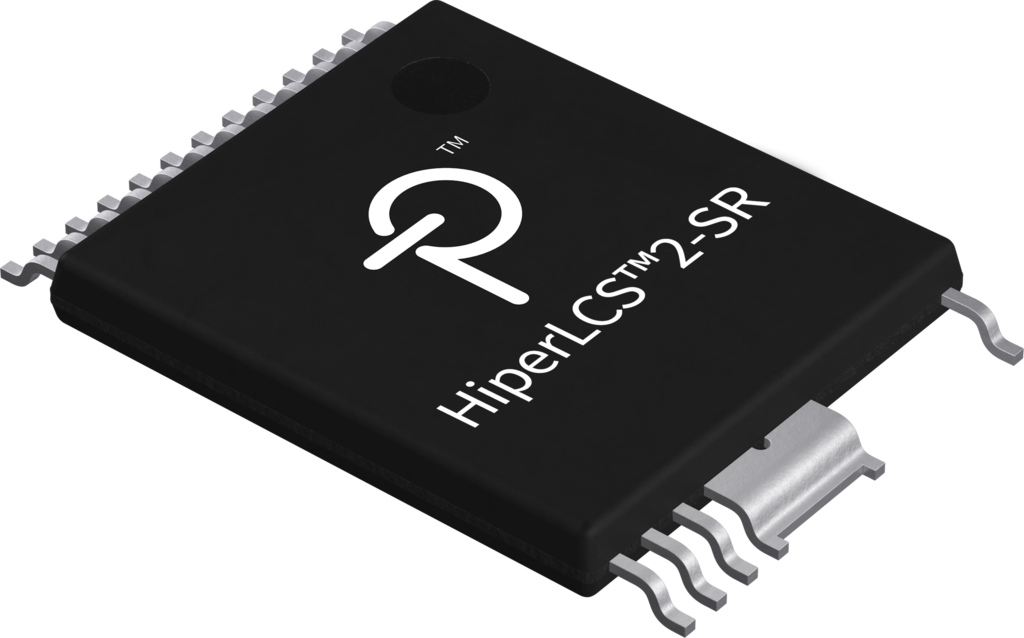 HiperLCS-2
---
Industry Standards Involvement
Power Integrations is known to policymakers and energy-efficiency advocates around the world, and we actively support the work of standards bodies such as the U.S. ENERGY STAR® program, the California Energy Commission, the European Commission, Natural Resources Canada, and others. Our Green Room website provides a comprehensive guide to world-wide energy-efficiency standards.
We also support academic research in the field of energy efficiency. The company has contributed funds for efficiency research at Lawrence Berkeley National Laboratory, and has contributed $50,000 to support an endowed research position in energy efficiency at the University of California, Davis.
Regular Consultation with
Energy Policy Makers and Leading Researchers




Active Participation on Technical Committees for International Standards
IEC TC47/SC47E for semiconductor devices
JEDEC JC-70 wide bandgap semiconductors committee
USB Implementers Forum

Power Sources Manufacturers Association (PSMA)
Chairing energy management committee last 3+ years

---